Dominick Weaver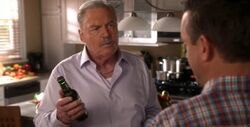 Full Name
Dominick Weaver
First Seen
"Thanksgiving Is for the Bird-Kersees"
Biography
Edit
Dominick is the father of Marty Weaver and husband to Theresa Weaver. Dominick despite his son success and new country house refuses to complement Marty, and commonly picks on Marty for not having a back bone for letting his wife Debbie run the family. This causes his son to show off to him in order to try and gain his respect. The result of which is to little or no success. A reason he admits is because he believes that Debbie is not good enough for Marty. 
Appearances
Edit
Thanksgiving is for the Bird - Kersees
Camping(briefly trough facetime)
Thanksgiving Aint a Smuck's Bait
Ad blocker interference detected!
Wikia is a free-to-use site that makes money from advertising. We have a modified experience for viewers using ad blockers

Wikia is not accessible if you've made further modifications. Remove the custom ad blocker rule(s) and the page will load as expected.