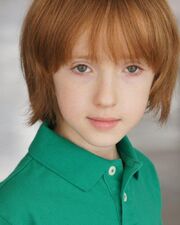 Ian Patrick
is a young actor who plays
Dick Butkus
.Most recently Ian appeared in the feature film
Wanderlust
, starring Jennifer Aniston and Paul Rudd.
Before working in TV and film, Ian appeared in a number of commercials and did local print work. He was born in Dallas and is the youngest of four children. He enjoys outdoor activities like riding his scooter. He also enjoys reading, playing computer games and building with Legos. He is an animal lover and has two dogs and four cats.
Ian frequently travels back and forth between his hometown of Dallas and Los Angeles.
Ad blocker interference detected!
Wikia is a free-to-use site that makes money from advertising. We have a modified experience for viewers using ad blockers

Wikia is not accessible if you've made further modifications. Remove the custom ad blocker rule(s) and the page will load as expected.