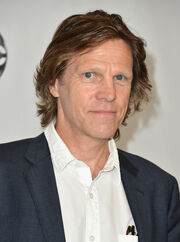 Simon Templeman
is an English voice actor who plays
Larry Bird
.Simon is known for his role as Kain in the video game series Legacy of Kain
, and as Teyrn Loghain Mac Tir in Dragon Age: Origins
. He is also known as 
Simon Templeton
. He is married to character actress Rosalind Chao with whom he has a son and daughter.
Filmography
Edit
Animated rolesEdit
Loonatics Unleashed – Dr. Dare
Talespin – Rick Skye
Totally Spies – Dr. Gilee
The Fantastic Four – Season 2 – Doctor Doom
The Incredible Hulk – Doctor Doom
The Legend of Prince Valiant – Sir Mordred
The Neighbors - "Larry Bird" (Series Regular)
24 - Season 3 – Trevor Tomlinson (Episode 17 - 5:00am–6:00am)
Angel – Season 5 (Episode 4 – Hellbound) – Matthias Pavayne
Charmed (season 3, 7, 8) – Angel of Death
Just Shoot Me – Season 7 - Simon Leeds
Lois & Clark (Episode 4.01, Episode 4.02) – Lord Nor
Ned & Stacey (Season 1, Episode 3) - Nigel Davies
Northern Exposure - Caldecott "Cal" E. Ingram
Star Trek Next Generation (Season 3, Episode 10) – John Bates. (His wife Rosalind Chao, played Keiko O'Brien in several episodes)
ER (Season 14, Episode 8) - Gareth, the Defender of Cheese.
Video game rolesEdit
Blood Omen: Legacy of Kain - Kain
Blood Omen 2 - Kain
Crusaders of Might and Magic – Black Guard
Dragon Age: Origins - Teyrn Loghain Mac Tir, "sassed" Circle Mage, Entrance guard of Haven, Bann Ceorlic, Caladrius.
Dragon Age: Origins - Awakening - Teyrn Loghain Mac Tir
Dragon Age III: Inquisition - Teyrn Loghain Mac Tir
Fable II – Victor the Ghost
God of War III - Peirithous
Final Fantasy XII – Judge Zargabaath
Infinity Blade II - The Worker of Secrets
Jade Empire – Kai Lan the Serpent
Lara Croft and the Guardian of Light - Kain
Legacy of Kain: Defiance - Kain
Legacy of Kain: Soul Reaver - Kain, Dumah
Soul Reaver 2 - Kain, Dumah
The Lord of the Rings: The Battle for Middle-earth – Narrator, Gondorian Soldier
Mass Effect 2 - Admiral Han'Gerrel vas Neema; Dr. Gavin Archer
Mass Effect 3 - Admiral Han'Gerrel vas Neema; Dr. Gavin Archer
Rise of the Argonauts - Pelias
Star Wars: Knights of the Old Republic – Various Sith soldiers
Uncharted: Drake's Fortune – Gabriel Roman
Neopets: The Darkest Faerie - Gelert Assassin
Tactics Ogre: Let Us Cling Together - Narrator
Star Wars: The Old Republic - Grand Moff Rycus Kilran, Threnoldt [Sith General], Darth Skotia
Kingdoms of Amalur: Reckoning - Khamazandu, Anokatos (Teeth of Naros DLC)
Diablo 3 - Haedrig Eamon
Darksiders 2 - Absalom
Ad blocker interference detected!
Wikia is a free-to-use site that makes money from advertising. We have a modified experience for viewers using ad blockers

Wikia is not accessible if you've made further modifications. Remove the custom ad blocker rule(s) and the page will load as expected.