Theresa Weaver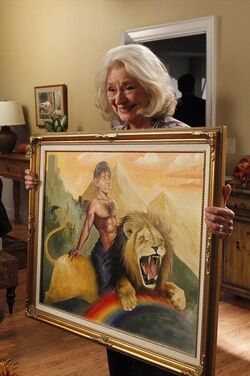 First Seen
"Thanksgiving Is for the Bird-Kersees"
Mentioned in
Dream Weavers
Portrayed by
Debra Mooney
Biography
Edit
Mother of Marty Weaver. Unlike her husband she rarely picks on Marty instead she picks on his wife Debbie constantly picking on her on everything from her cooking to how she dresses. This drives Debbie crazy sometimes to the point of madness. However, with the help of Dick Butkus she sees the importance in family, and finally complements her daughter in law.
Relationships
Edit
Appearances and Actress
Edit
Theresa appeared in "Thanksgiving is for the Bird-Kersees" and is played by Debra Mooney.
Ad blocker interference detected!
Wikia is a free-to-use site that makes money from advertising. We have a modified experience for viewers using ad blockers

Wikia is not accessible if you've made further modifications. Remove the custom ad blocker rule(s) and the page will load as expected.