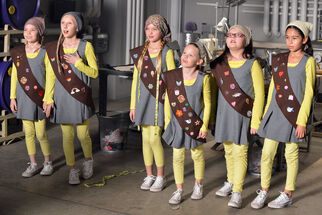 Biography
Edit
The Sunshine Scouts are Abby Weaver's girl scout troop. The scouts have weekly meetings and compete tasks to earn merit badges. Larry takes particular notice of this "lady army" and puts their pliant young fingers to work sewing purses.
The scouts' regulation attire consists of yellow pants and long-sleeved shirts, grey dresses, white tennis shoes, a brown sash to display their badges and a 'do-rag for their heads.
 Troop Members
Edit
Ad blocker interference detected!
Wikia is a free-to-use site that makes money from advertising. We have a modified experience for viewers using ad blockers

Wikia is not accessible if you've made further modifications. Remove the custom ad blocker rule(s) and the page will load as expected.